Saranac Lake Cabins .com is the premier online guide to historic Saranac Lake, New York showcasing hundreds of exciting
attractions throughout the Adirondack region including Lake Placid (host of the 1932 & 1980 winter Olympics), Tupper Lake and Saranac Lake. We invite you to take a virtual tour of some
of our most popular travel destinations including Paul Smiths, Loon Lake, Rainbow Lake, Lake Clear, Raybrook, Keene, Keene Valley, Jay, Wilmington, Essex, Ticonderoga, Crown Point, Schroon Lake , Westport , Bloomingdale, St. Regis Falls, Saranac, Malone and the Adirondack High Peaks.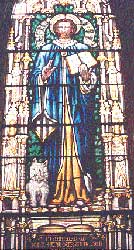 The Village of Saranac Lake is located in the heart of the magnificent High Peaks Region and is famous for its many beautiful lakes and streams including the Upper, Lower and Middle Saranac Lakes, Kiwassa Lake, Oseetah Lake, Lake Flower and Upper and Lower St. Regis Lakes. These waters offer some of the finest fishing in the country and are home to many native species of trout, bass and pike. The Saranac Lake region offers visitors a rich variety of historic, artistic and cultural attractions. Saranac Lake is also famous for its magnificent 'Great Camps' dating back to the golden era of the early 1900's. These sprawling compounds epitomize what is known today as the rustic 'Adirondack style' representing a unique chapter in Americian architectural history. These rustic camps served as huge retreats for wealthy families like the Rockefellers and Vanderbilts for half a century. Today, visitors can actually tour some of these 'Great Camps' and experience their spectacular beauty first hand.

SAVE UP TO 50% ON
SARANAC LAKE & LAKE PLACID LODGING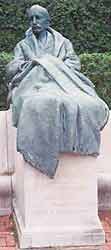 Dr. Edward L. Trudeau
1844-1915
(photo courtesy of Historic Saranac Lake)
Saranac Lake is also well known for its fresh mountain air and rejuvenating climate! In the early 1900's the Village of Saranac Lake became an international destination and pioneer health resort for people from all walks of life suffering from Tuberculosis. Dr. Edward Livingston Trudeau discovered the cure for Tuberculosis gaining worldwide attention for this quaint mountain village.

Today, the organization known as Historic Saranac Lake, an architectural preservation group, has done a remarkable job preserving and recognizing the 'Cure History' of Saranac Lake through the nomination of 170 properties to the National Register of Historic Places. Current projects include management of the restored Union Depot as a tourist, transportation and recreation center, and the restoration of the Bela Bartok Cabin and Dr. E.L. Trudeau's Saranac Laboratory.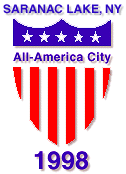 Saranac Lake has now become an important cultural tourism destination in Upstate New York. In 1995 the Village of Saranac Lake was ranked #1 among small towns in New York State and 11th in the United States. In 1998 the prestigious All America City status was bestowed upon the Village in recognition of Saranac Lake's unique history and character.

The Climate in Saranac Lake
While the region's cool, clear air was part of what made Saranac Lake famous, it can be a challenge. Winters are quite cold and snowy, it is not uncommon for the village to be the coldest place in the continental United States in the thick of the season. Spring is late and cool, summer short with cool evenings, and fall is early and crisp. The weather is famously changeable, and even short-range weather forecasts are often proven wrong.

Experience Saranac Lake in the heart of the Adirondacks!
Let us help you choose the perfect Adirondack hideaway for your vacation!
Whether it's a secluded 2 room cabin miles from nowhere or a spacious 6 bedroom home in the heart of Saranac Lake or Lake Placid, we can offer the best of both worlds! If you are interested in obtaining further information on any of our Lake Placid or Saranac Lake listings, please feel free to contact our office anytime via fax, phone, or e-mail.

Here is just a sample of our rental homes
(click on the images for full sized pictures and descriptions)
Kalabass- Log Cabin on Bass Pond. One bedroom plus sleeping loft. 2 person Jacuzzi, Outdoor fire pit & lean-to. Sleeps 4.
McKenzie Pond Road Home- Hiding Bear
Located between Lake Placid and Saranac Lake. Large yard.
Large deck, wooden interior.
Oregon Pond Cottage - 'Chiphaven' Adirondack cottage - perfect for the outdoorsey type. Great views of a lovely Adirondack body of water.Sleeps 2
'Loonsome Landing' - Rustic Cabin on Beautiful Loon Lake
2 bedrooms, 1 bath, sleeps 6, great swimming,

Lily Pad on Rainbow Lake Located directly on the water, 2 bedrooms, place to dock your boat. Sleeps 4
Oregon Pond - 'Annies Cabin'
2 bedroom, 1 bath, woodstove,TV (with cable) VCR, canoe & rowboat provided, sleeps 5

Upper Saranac Lake Rental 'Four Winds'
2 bedroom, 1 bath, dock. Beautiful waterfront Sleeps 5 people

Beautiful Wood Home on Loon Lake- 'Camp Auer'
2 bedrooms+ loft 1 1/2 bath, great swimming, dock, canoe

Little Nell on Moody Pond
Open floor plan, 1 bath, fully equipped kitchen, fireplace, new Adirondack style cottage, sleeps max 2.

Upper Saranac Lake Cottage- "Wabasso"
Cozy wooden interior, large porch, located on the beautiful Upper Saranac Lake. Sleeps 4
Indian Rock Chalet -
New Construction, wooden interior. whirlpool tub
Sleeps 4

***Reservations***:
Please call Lisa McKenna @ 518-891-3745 or email her lisanyrentals@yahoo.com
Advance reservations will be taken throughout the year by telephone and confirmed with a 50% deposit in the form of a personal check or money order. The balance due and security deposit is to be received no later than 30 days prior to the first day of your rental. We will hold the security deposit for a period of one week.
Rob Grant & Associates has a strict lease agreement. Please preview the sample
Lease Agreement . Your Individual lease will be sent by mail for you to sign and return after you send your 50% deposit.
Please Note: Keys for the rental units are NOT available before 3:00 pm on the Saturday of your check in.

Adirondack Culinary Arts
The Adirondacks & the Lake Champlain Valley of Upstate New York & Vermont have long been known for their truly unique & varied cuisine ranging from fresh caught native brook trout cooked over an open campfire to world class dining at five star resorts. In the internationally acclaimed Olympic Village of Lake Placid, diners can choose from exciting restaurants with menus featuring everything from sushi and health foods to hearty Adirondack homecooked meals. The Culinary Arts program at Paul Smith's College in the Adirondacks was founded on the principle of learning by doing. Many of todays local chefs learned their trade at Paul Smith's. Students in Baking and Pastry Arts are preparing for careers in the growing hospitality industry, and upon completion can expect to find positions in hotels, resorts, and restaurants. This career path develops skills and knowledge necessary for employment in a variety of baking and pastry establishments.
Examples of these positions include:
Baker, Baker's Helper, Pastry Cook, Assistant Pastry Chef, and Bakery Manager. This fast paced industry offers many opportunities for advancement.


Culinary Institutes

click here
Search for two- & four-year degrees in Culinary Arts & Baking
Side-by-side comparisons of 35 culinary schools.
Learn the culinary skills you need to get ahead!

Adirondack Shopping
Shopping is at its best in the Adirondacks - we showcase the regions finest boutiques, galleries, stores and antique & craft shops throughout Upstate New York, the Lake Champlain Valley & the Adirondacks. The Adirondack Region has been renowned for its shopping, hospitality and lodging since the turn of the century when the rich and famous constructed spectacular Great Camps and huge rustic hotels during the "Gilded Age". Today, visitors have their pick from a wide and eclectic assortment of shopping and services ranging from Adirondack gifts, rustic furniture, Adirondack chairs, crafts and artwork to household items, pet care and lawn and garden equiptment. click here.

We invite you to visit our Adirondack Gallery showcasing unique Adirondack Furniture ~ Antler Chandeliers & Lamps ~ Hand Painted Canoe Paddles

~

Adirondack Packbaskets ~ Adirondack Prints ~ Authentic Birch Bark Framing ~ and beautiful hand crafted gifts. Click here! We also offer interior design services for Adirondack
style camps & homes.

Birchbark Picture Frames

Antler Chandeliers

Snowshoe Lamps

Hand Painted Canoe Paddles
Adirondack Hiking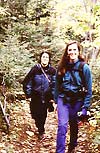 The High Peaks Region is famous for its magnificant 46 peaks including Mt. Marcy, the highest peak in New york State, with an elevation of 5344' .The 46 peaks include the following mountains (listed in order of height):
Mt. Marcy, Algonquin Peak, Mt. Haystack, Mt. Skylight, Whiteface Mtn,Dix Mtn. , Gray Peak, Iroquois Peak , Basin Mtn., Gothics, Mt. Colden, Giant Mtn., Nippletop, Santanoni Peak, Mt. Redfield, Wright Peak, Saddleback Mtn., Panther Peak, Tabletop Mtn., Rocky Peak Ridge, Macomb Mtn., Armstrong Mtn. ,Hough Peak, Seward Mtn., Mt. Marshall, Allen Mtn., Big Slide Mtn., Esther Mtn. , Upper Wolfjaw, Lower Wolfjaw , Street Mtn., Phelps Mtn., Mt. Donaldson, Seymour Mtn., Sawteeth, Cascade Mtn., South Dix, Porter Mtn., Mt. Colvin, Mt. Emmons, Dial Mtn., East Dix, Blake, Cliff Mtn., Nye Mtn., and Couchsachraga Peak.

Mount Marcy:
This is the highest mountain in the Adirondack with 5344 feet. Marcy is located in the middle of the High Peaks Region. This mountain must be seen from a very close location to be able to admire its beauty. Three of the major accesses to the Adirondack region make possible a day hike to it. The shortest approach start at Heart Lake and follows in and out the Van Hoevenberg Trail. This is a 23,75 km hike that takes an average of 7˝ hours. The easiest way to shorten this distance is to camp at Marcy Dam. This will cut 7,3 km to the distance. Marcy Dam is a rustic camping area. It takes an hour of walk to get there from Heart Lake.
Cascade Mountain:
One of the most popular summits of the Adirondacks with Algonquin Peak and Giant Mt.. It's the easiest hike among the 4,000 feet summit. Cascade Mt. has a 360 degree view from its large rocky top. There is a magnificent view to the North of the entire Lake Placid Valley. The entire hike is in a wooden trail except for the last ˝ km, which is on bare rock. This summit stands apart from the other High Peaks, so there is no view over those highest summits that are Mt. Marcy, Mt. Colden or Algonquin Peak.
Giant Mountain:
This is one of the most popular summit of the Adirondack. The two main trails are at 1 km (Roaring Brook Trail) and at 3 km (Ridge Trail) South from St-Hubert. The Ridge Trail is the most spectacular one with from the middle of its height a long bare rock section with many viewpoints toward the West over the Dix Range, The Great Range, Mt. Marcy, Algonquin Peak and up to Cascade Mt.. This trail difficulty is similar to the one of Algonquin Peak from Heart Lake. They have similar length and high. The beginning of the Ridge Trail is very steep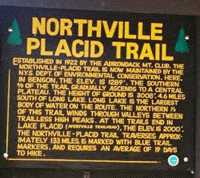 whereas the one of Algonquin Peak is very progressive. The second most popular approach is the Roaring Brook Trail that passes a side trail leading to a waterfall (Roaring Brook Falls) then follows a ridge with some viewpoints to the summit. It is possible to make a long loop using those two trails.

The Northville - Placid Trail
The Northville Placid Trail is a 133 mile walking / hiking path that goes through the heart of the Adirondack wilderness in New York State. The trail crosses the Adirondack wilderness by means of a low lying path. It has several trails intercepting it that head up the peaks, but the majority of the Northville Placid Trail cuts between the valleys and along streams. click here for descriptions of the entire trail.

ADIRONDACK CAREER DIRECTORY
Are you tired of your job? Ever thought about going back to school in your spare time to further your career?
Online programs give working adults and full-time students tremendous scheduling flexibility and the opportunity to earn a degree in less time than is usually possible through on-campus attendance.
If you want to start or accelerate your career, explore the online programs & request free information in the following areas:
click on the links below



New York State Correctional Jobs
The majority of jobs in the New York State Department of Correctional Services are filled by Correction Officers, who are required to pass a written Civil Service exam and undergo extensive medical, psychological, and background checks. Correction Officer positions are located throughout New York State in various facilities of the Department of Correctional Services. Correction Officers are responsible for the custody and security as well as the safety and well being, of criminal offenders in State Correctional Facilities.


THE POSITION OF NEW YORK STATE CORRECTION OFFICER:
Candidates must be 21 years of age on or before the date of their appointment Correction Officer positions are located throughout New York State in various facilities of the NYS Department of Correctional Services.
As a Correction Officer, under the direct supervision of a higher-ranking officer, you would be responsible for the custody and security, as well as the safety and well-being of criminal offenders in State Correctional Facilities and Correctional Camps. You would supervise the movement and activities of inmates; make periodic rounds of assigned areas; conduct searches for contraband; maintain order within the facility; and prepare reports as necessary. You would advise inmates on the rules and regulations governing the operation of the facility and assist them in resolving problems. You would have a high degree of responsibility for your actions and decisions. You may also be required to carry firearms in the performance of certain duties and to perform other related work as required.

The majority of jobs in the New York State Department of Correctional Services are filled by Correction Officers, who are required to pass a written Civil Service exam and undergo extensive medical, psychological, and background checks. Correction Officer positions are located throughout New York State in various facilities of the Department of Correctional Services. Correction Officers are responsible for the custody and security as well as the safety and well being, of criminal offenders in State Correctional Facilities.

Click here for more information on jobs in criminal justice!


Have you ever thought about publishing your very own book about Saranac Lake?

You Have The Talent, We Have The Resources!


Are you an author looking to publish your masterpiece? BookPublishers.com could connect talented writers like you with willing book publishers. For many talented authors, the most difficult obstacle isn't writer's block—it's finding a receptive publisher to publish their books. Because publishers have to sift through so many works, they may dismiss some unfairly, or be so short-staffed that they don't have the time to give each manuscript its fair consideration.
Book Publishers.com
click here
For those who decide that finding a publisher isn't the right choice for them, self-publishing can be a great alternative. With self-publishing a writer can maintain editorial control, as well as keep all proceeds from the book sales. Whatever your preference, BookPublishers.com wants to help you on your journey to become a published author! You have the talent, we have the resources.
click here for more information

Higher Education in Saranac Lake

North Country College of Essex and Franklin
23 Santanoni Ave., P.O.Box 89, Saranac Lake, NY 12983-0089 Phone: 518-891-2915
Toll Free: 1-888-879-6222
North Country Community College is committed to providing, within Essex and Franklin counties, an innovative, challenging, supportive environment where the intellectual, career, personal and creative aspirations of all interested individuals can be realized.

Paul Smith's College
Route 86 & 30 P.O. Box 265 Paul Smiths, NY 12970-0265 Tel: 518-327-6227 1-800-421-2605
Paul Smith's College is set in the Adirondacks of Northern New York amid awe-inspiring mountains, sparkling lakes and lush forests. The main campus of the 14,200 acre property is on the shores of Lower St. Regis Lake, providing a safe, comfortable and invigorating environment to obtain baccalaureate or associate degrees. Bachelor's programs include Biology, Business, Culinary Arts and Service Management, Fisheries and Wildlife Sciences, Forestry, Hotel, Resort and Tourism Management, Natural Resources, and Recreation, Adventure Travel and Ecotourism (RATE). Alternatively, careers also start with Associate degrees in programs such as Business, Culinary Arts, Forest Recreation or Forest Technician, Liberal Arts, Hotel and Restaurant Management, Outdoor Recreation, Surveying, or Urban Tree Management.

Student and parent loans made available under the Federal Family Education Loan Program (FFELP) are the most affordable and flexible options for financing your education.


How to Apply for a Student Loan
U.S. Department of Education - FAFSA
Gather the documents you need
Start with your Social Security Number, driver's license, income tax return, bank statements and investment records.
Print a FAFSA on the Web Worksheet
Write in your answers and gather your parent's information then transfer the data to FAFSA on the Web.
Plan how to sign your FAFSA
Sign electronically with a U.S. Department of Education Personal Identification Number (PIN) or by mailing in a signature page.
Apply for a PIN now!
Speed up the process by signing your FAFSA electronically with your PIN. Your parent can sign electronically too.
Check your eligibility for federal student aid.
Note important deadlines
To meet the Federal Student Financial Aid deadline:
Apply as early as possible beginning January 1st of each year.
Schools and states have their own deadlines. Contact them for exact deadline dates.


Adirondack Golf
The Adirondacks have been a summer destination for golfers for over one hundred years. It is a golfers paradise with several world class courses for you to choose from. From scenic Craigwood , to 45 hole Lake Placid Club , Whiteface Club and Resort & the Saranac Inn, to smaller Saranac Lake Golf Club and Westport Country Club, you won't be disapointed .

Golf Packages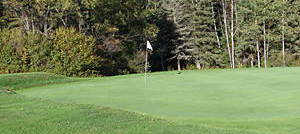 New York Golf Package
Bargain New York Golf Package & Hotel Rates. Read Reviews
and Browse Amenities! Save big on your entire trip, even last minute travel.



Lake Placid Golf Package
Lake Placid summer golf packages . Lake Placid offers hundreds of links and spectacular golf in the heart of the Adirondacks. Award-winning courses offer a unique variety of golf for players of all abilities in a truly breathtaking mountain setting.

Golf Course Homes
Find your perfect home. Residential Golf Community guide and information for country clubs, golf communities and private golf communities across the United States.


Saranac Lake Area Golf Courses

Saranac Inn Golf & Country Club -
518-891-1402 Saranac Lake
The Saranac Inn Golf and Country Club was founded at the turn of the century and designed by renowned Scottish Pro and Architect Seymour Dunn. The course was designed using the natural terrain to provide a wonderful golfing experience, with spectacular mountain views, pure mountain air and a memorable fragrance emanating form the balsams that line the course.

Saranac Lake Golf Club -
518-891-2675 Ray Brook
A friendly 9-hole course on route 86, between Saranac Lake and Lake Placid fun for both novice and experienced golfers. Offers a complete practice facility. 518-891-2675.
Craig Wood Golf Course -
518-523-9811 877-999-9473 (In Season)
Craig Wood Golf Course offers a challenging round of golf in a spectacular setting. Designed by Seymour Dunn in 1925, this carefully maintained municipal course is strategically carved into the Adirondack countryside. It's the perfect opportunity for a great round of golf.

Lake Placid Club Golf Courses -
Tee Times: 518-523-4460 800-874-1980 Lake Placid
Set amidst towering white pines in the heart of Adirondack splendor the historic Lake Placid Club offers unique real estate that is stunning in its natural beauty and rich with recreational opportunities. The Club comprises over 900 acres of land providing a variety of exclusive Adirondack homes, Condominiums and lots with an unmatched range of amenities - including 45 holes of championship golf - and conveniently located close to the center of the village of Lake Placid.

Whiteface Club & Resort Golf Course -
518-523-2551 1-800-422-6757 Lake Placid
Whiteface Club Golf Course is one of the most notable and majestic golf courses in the eastern United States. Built in 1898 on the shores of Lake Placid, it soon became the course of royalty, move stars and famous sports figures.


ADIRONDACK PHOTOGRAPHER SHOWCASE
Carl Heilman II
Outdoor photographer Carl Heilman II has lived in the Adirondacks in upstate New York since he moved to the region in 1973 to live in his parents' summer home. Carl Heilman II has been photographing the Adirondack wilderness landscape since 1975, working to capture on film both the grandeur of these special places, and the emotional and spiritual connection he has felt as well.


Adirondack Vistas
2009 Calendar

Beautiful Lake George
2009 Calendar

Adirondack Calendars - The Perfect Holiday Gift
By photographer- Carl Heilman
Click here
Carl Heilman's passion for spending as much time as possible in some of the wildest regions of the Adirondack Park, soon became a life-long quest to create images that record the essence of a true wilderness experience. Today Carl is a full time professional nature photographer.His photographs and panoramas are also available as posters, murals, and special edition prints. His selection of Adirondack posters includes a pair of panoramic posters that show the full 360° view from the summit of Mt. Marcy, and a panoramic image of the spectacular fall foliage and the High Peaks from Mt. Van Hoevenberg. Each winter, as a NYS licensed guide, he leads backcountry snowshoeing workshops at the Mountainfest in Keene Valley, and has lead them for the Adirondack Mountain Club at the Adirondak Loj near Lake Placid,
Click here
for more information on Adirondack Artist Carl Heilman.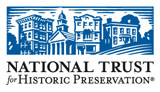 National Trust Names
Saranac Lake, New York, One of America's Dozen Distinctive Destinations 2006.
Annual List Promotes Heritage Tourism:

Washington, D.C. (March 7, 2006) First settled in 1819 in what was then untouched wilderness, Saranac Lake, N.Y., is a timeless Adirondack village, nestled among pristine lakes, evergreen forests and nearby mountains. Once a logging community, the town was reinvented in 1876 when a physician in the last stages of tuberculosis came to Saranac Lake to live out his final months. Happily, the doctor, an outdoor enthusiast, not only survived but was restored, and Saranac Lake began a new chapter as one of the country's pioneering health resorts. The village grew into a thriving community, home to a world-renowned sanatorium, a dozen bustling hotels and a host of "cure cottages," large boarding houses sporting several wide porches, many of which are still prominent landmarks around town. Today, Saranac Lake's downtown is charmingly preserved with period architecture and a host of restaurants, shops and art galleries and a variety of delightful accommodations such as the 1920s landmark Hotel Saranac, a member of the National Trust's Historic Hotels of America. For more than a century, visitors have flocked to Saranac Lake's Winter Carnival, a week-long festival that includes sporting events, performing arts, parades, fireworks and the world famous Ice Palace. The Adirondack High Peaks Wilderness Train takes riders on a 20-mile round trip from Saranac Lake Union Depot to Lake Placid Station, where visitors can tour the site of the 1932 and 1980 Winter Olympic Games. With miles of trails and waterways to explore and unlimited outdoor pursuits including hiking, boating, swimming, golfing, biking and fishing, Saranac Lake is still the perfect prescription for mind, body and soul. To read entire press release click here



Saranac Lake Cabins.com gives you everything you need to know to plan your trip online when visiting Upstate New York and the Adirondacks. It's all right here at your fingertips . . . with just a click of your mouse!
More historic landmarks and photos of Saranac Lake:
The Adirondack Chair
The Adirondack Chair is one of the most popular outdoor chairs in the United States. The chair incorporates design ideas used for many decades; wide arms, contoured seat and a scalloped back. Adirondack chairs are comfortable because the chair back inclines 30 degrees and is curved to conform to your back giving excellent lower back support. Its deep, angled seat and broad arm rests, make the perfect place for a plate of food & drink or garden gloves. click here for more Adirondack chairs.
Rustic Furniture
The idea of behind rustic furniture was to create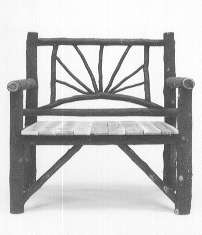 interesting pieces using natural materials such as twigs and logs that would blend into a decor and not stand out . Rustic furniture makers today follow the age old tradition of using natural materials to create spectacular furniture and rustic decor pieces. Rustic furniture usually has no set line or angles. Each piece is individually crafted .
Once you have a log home with rustic elements you will want to continue that element with the furniture and decorations.
Finding beautiful log furniture, stairs and railings, and other pieces that will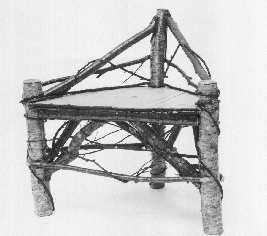 complement your beautiful log home is easier than you might think. Log furniture is naturally beautiful. You can see all of the character and wood grain of the logs used in every piece of wood furniture. Log furniture made with timbers, twigs and branches brings nature right into your home or cabin. From custom crafted twig furniture, stairs and railings to antler chandeliers, your unique rustic look is just a few clicks away.
Compare & save up to 60% everyday on skates, sticks & over 1000 other hockey equipment products in stock for same-day shipment!
Search a large selection of hockey gear including womens & youth sized hockey equipment and more!
Click here


Saranac Lake Winter Carnival
Click here to visit
www.SaranacLakeWinterCarnival.com
ONLINE VISITOR & RELOCATION GUIDE
Click here to get valuable resources and tools to help you relocate, buy a home, find a great loan & much more!
Saranac Lake NY Lodging .com
43 Broadway
Saranac Lake, New York 12983
Phone: 518-891-3745 Fax: 518-891-3768


This web site offers consumers a comprehensive portal and resource center providing information on the following subjects:
saranac lake, saranac lake ny, estate lake real saranac, saranac lake or lake placid, saranac lake accommodation, carnival lake saranac winter, lake point saranac, saranac lake news, saranac lake high school, central lake saranac school, cam lake saranac web , saranac lake newspaper, lake ny saranac, hotel lake saranac, chamber commerce lake saranac, lake saranac weather, real estate saranac lake ny, lake realty saranac, lake rental saranac, hospital lake saranac, lake lodging saranac, lake saranac upper, lake n.y saranac, the point saranac lake ny, lake restaurant saranac, lake resort saranac, lake saranac snowmobiling, lake ny saranac weather, airport lake saranac, lake rental saranac vacation , saranac lake ny , estate lake real saranac 54 real estate saranac lake ny

Saranac Lake Cabins .com
43 Broadway
Saranac Lake, New York 12983
Phone: 518-891-3745 Fax: 518-891-3768
E-Mail: RobGrant@northnet.org
This website is owned and operated by
adirondacks.com internet publishing group.
For advertising and editorial content,
please contact Rob Grant;
adirondacks.com reserves the right to reject,
modify or cancel any advertising at its sole discretion.

For web site design, marketing, or consultant services
Contact Adirondacks.com
518-891-3745





webmaster: Susan Moore
All copy & images copyright- Adirondacks.com Internet Publishing Group